DOJ requires divestitures to approve Dow-DuPont Merger
The Dow Chemical Co. (NYSE: DOW) and DuPont (NYSE: DD) have reached an agreement with the U.S. Department of Justice to clear another major regulatory hurdle.
The DOJ agreed to approve the merger of equals as long as the companies divest multiple crop protection assets and two petrochemical products, according to a June 15 press release. However, the companies noted they already agreed to divest those assets to gain approval for the merger in the European Union.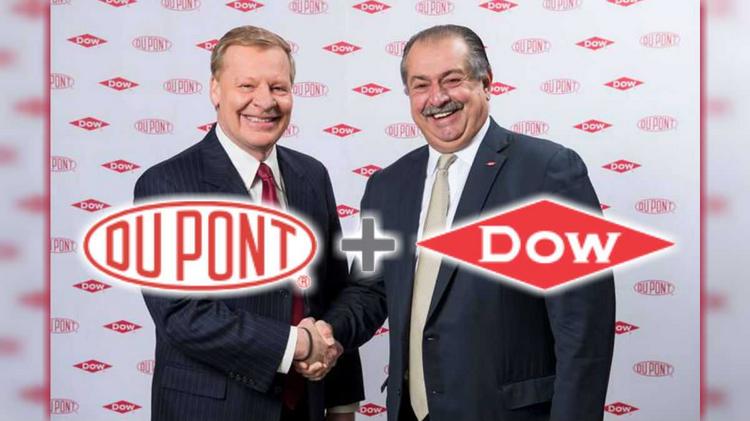 DuPont CEO Ed Bree (left) with Dow Chemical CEO Andrew Liveris after accouncing their companies' merger into DowDuPont
Without the divestiture, the DOJ claims the merger "likely would reduce competition between two of only a handful of chemical companies that manufacture certain types of crop protection chemicals and the only two U.S. producers of acid copolymers and ionomers, potentially harming U.S. farmers and consumers," per the June 15 release.
On June 15, the DOJ's Antitrust Division — along with the offices of state attorneys general from Iowa, Mississippi and Montana — filed both a civil lawsuit to block the proposed deal, as well as a proposed settlement that, if approved by the court, would resolve the department's concerns.
The deal requires DuPont to divest its Finesse herbicide and Rynaxypyr insecticide products, which have total combined annual U.S. sales of more than $100 million, per the DOJ. It also requires Dow to divest its U.S. acid copolymers and ionomers business. All of the buyers must be approved by the U.S. government.
As part of the DOJ's investigation into the merger, the Antitrust Division worked closely with the European Commission, which approved the deal in March. That approval also was granted on the condition that the companies divest certain assets, some of which overlap with the DOJ's requirements. According to the companies' June 15 press release, the DOJ agreement does not require any additional divestitures other than those in the European Commission agreement.
In addition to the U.S. and Europe, Brazil and China have also signed off on the deal. The companies said they are working constructively with regulators in remaining jurisdictions and still expect to close the deal in August and spin the merged company out into three separate entities about 18 months later. They also still expect the merger will generate cost synergies of approximately $3 billion and growth synergies of about $1 billion.